Venues, Amsterdam Information & Travel
HEIRNET Conference Venues
HEIRNET 2022 Conference (Wednesday 31th August to Friday 2nd September)
Kohnstammhuis (KSH)
Amstel Campus of Amsterdam University of Applied Sciences
Wibautstraat 2-4, 1091 GR
Evening reception (Wednesday evening)
To be arranged
Conference dinner (Thursday evening)
To be arranged
Conference Office
Reception area
Kohnstammhuis (KSH)
Wibautstraat 2-4
Maps showing location of the HEIRNET conference
Location of the Amstel Campus of the Amsterdam University of Applied Sciences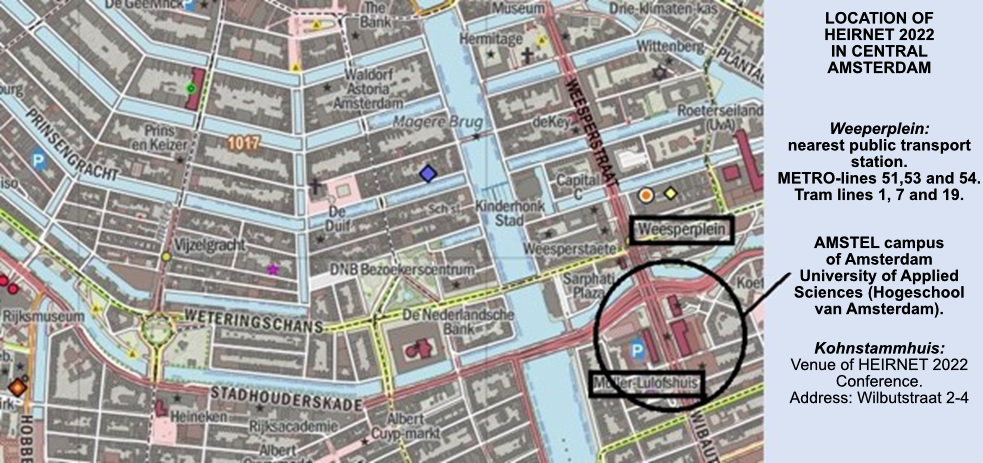 Amstel Campus: HEIRNET Conference Site – Amsterdam University of Applied Sciences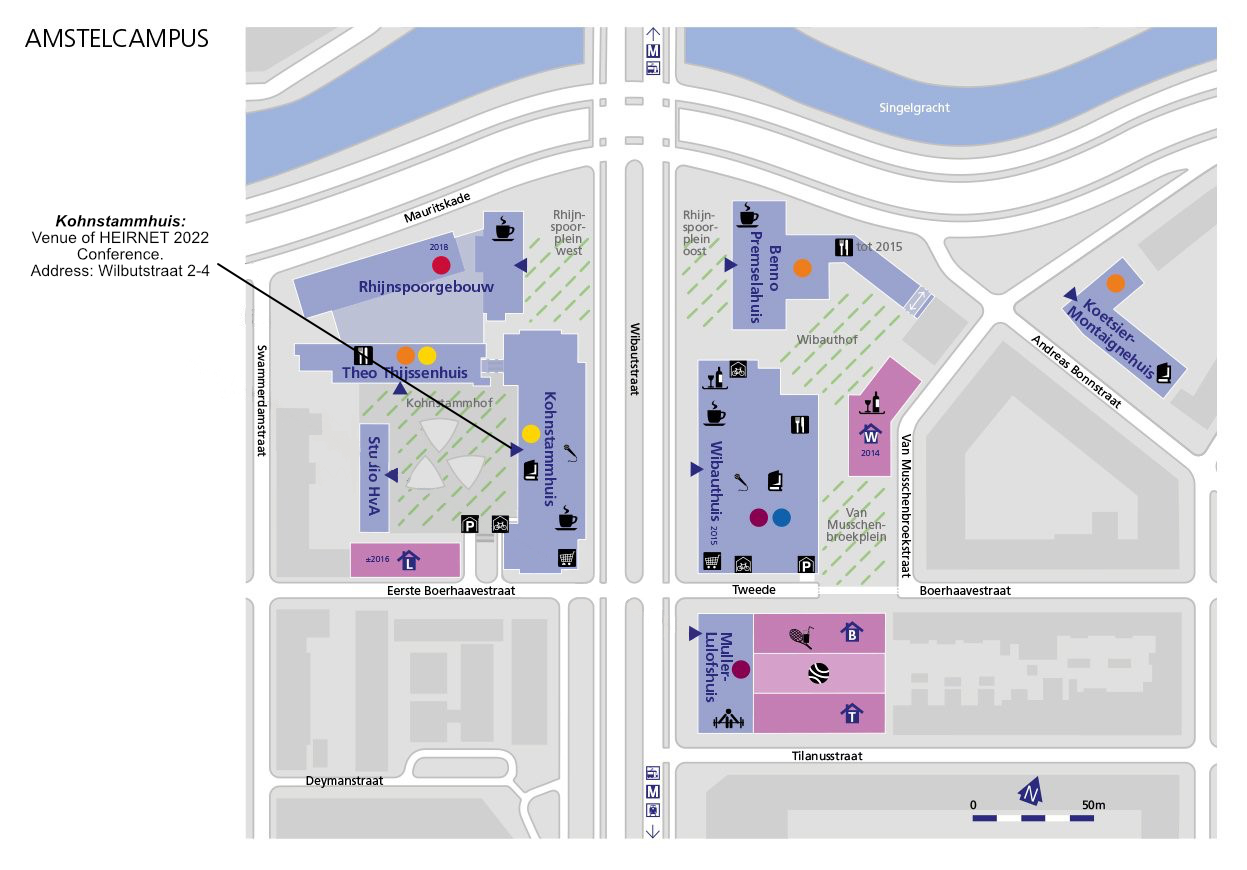 Transport Information to Amstel Campus
Conference Dinner
To be confirmed
The viator website is extremely comprehensive and seems to cover everything that you might want to see and some things others might not.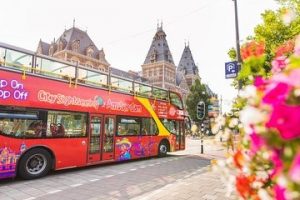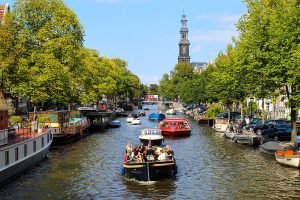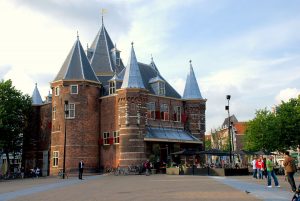 Lonely Planet
A handy sized guide book stuffed with information: it states with the usual spontaneous enthusiasm:
Golden Age canals lined by tilting gabled buildings are the backdrop for Amsterdam's treasure-packed museums, vintage shops and creative design, drinking and dining scenes. Lonely Planet will get you to the heart of Amsterdam, with amazing travel experiences and the best planning advice.
Soak up centuries of artistic masterpieces, cycle through the city's canal-woven core, or get gezellig in a brown cafe; all with your trusted travel companion. Get to the heart of Amsterdam and begin your journey now!
Inside Lonely Planet's Amsterdam Travel Guide:
Colour maps and images throughout
Highlightsand itineraries help you tailor your trip to your personal needs and interests
Insider tipsto save time and money and get around like a local, avoiding crowds and trouble spots
Essential infoat your fingertips – hours of operation, phone numbers, websites, transit tips, prices
Honest reviews for all budgets– eating, sleeping, sight-seeing, going out, shopping, hidden gems that most guidebooks miss
Cultural insightsgive you a richer, more rewarding travel experience – history, art, literature, music, architecture, Dutch design
Over34 maps
Coverage Includes: Medieval Centre & Red Light District, Nieuwmarkt, Plantage & the Eastern Islands, Western Canal Ring, Southern Canal Ring, Jordaan & the West, Vondelpark & the South, De Pijp, Oosterpark & East of the Amstel, Amsterdam Noord, and more
Book Details
ISBN: 9781786575579
Writers: Catherine Le Nevez, Abigail Blasi
320 pages, 320pp color, 41 maps | Dimensions: 128mm × 197mm
Next edition due: May 2020
By Air: Amsterdam Schiphol Airport
Schiphol Airport is the main international airport of the Netherlands,  9 kilometres (5.6 miles) southwest of Amsterdam, it is the third-busiest airport in Europe.
Schiphol is the hub for KLM and its regional affiliate KLM Cityhopper as well as for Corendon Dutch Airlines, Martinair, Transavia and TUI fly Netherlands. The airport also serves as a base for EasyJet and LEVEL.
Schiphol Airport to Central Amsterdam
Schiphol Airport includes a railway station below it.
The train is probably the cheapest and most convenient way of getting to Amsterdam city centre. Below compares all the possible travel and ticket options – by train, bus, and metro. There are also numerous taxis: check if they are official ones or raptors.
1. TRAIN: NS (Dutch Railways) trainfrom Schiphol Airport to Amsterdam Central (single €5.50 including €1 surcharge for a disposable ticket, 15-20 mins).
With a journey time of only 16 minutes, the City Airport Train is the fastest way to travel to the city centre – without stress and traffic jams and in an environmentally friendly way.
2.  TRAIN+METRO:NS train from Schiphol to Amsterdam Zuid (single €4.00 including €1 surcharge, 7 mins) where you can connect onto the metro (single from €3.20).
Metro stations– check if one is convenient for where you are staying.
Nearest metro station for HEIRNET conference: Weesperplein,  currently served by three routes: Route 51 (Centraal Station – Amstelveen Westwijk), Route 53 (Centraal Station – Gaasperplas) and Route 54 (Centraal Station – Gein).
3.  BUS:Amsterdam Airport Express Bus 397(Connexxion-RNet) from Schiphol Plaza to Amsterdam Elandsgracht (single €6.50, 30 mins). Also, GVB bus 69 Schiphol to Amsterdam Sloterdijk (single €3.20, 40 mins). Note neither bus goes to Amsterdam Central.
4. Amsterdam Travel Ticket:1/2/3 day card (€17/€22.50/€28) combines airport train/397 bus journey with unlimited use of GVB transport in Amsterdam. Valid on a day (not 24 hours) basis.
5. Amsterdam & Region Travel Ticket:1/2/3 day card (€19.50/€28/€36.50) offers unlimited travel in Amsterdam & entire region (including Waterland, beaches, Keukenhof etc). Valid on a day (not 24 hours) basis on NS trains (in region), regional buses and Amsterdam GVB transport.
International Trains
It is extremely easy and comfortable to let an international train take the strain of travelling to Amsterdam.