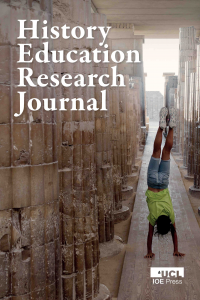 The History Education Research Journal (HERJ) is an international, open-access, peer-reviewed journal that focuses on the global significance and impact of History Education. The journal particularly welcomes submissions that include attention to the implications for policy and practice that arise from theoretical and empirical work. Themes of interest include (but are not limited to) curriculum, teaching and teachers, academic progression, didactics, historical consciousness, the intersection between education and public history, community history, national and international perspectives, historical literacy, disciplinary history and the history of history education.
HERJ is a relaunch of the International Journal of Historical Learning Teaching and Research, which ran from 2001 to 2016 [IJHLTR]. All 26 past issues of IJHLTR (up to and including HERJ vol. 15, no. 1) were published under this title. HERJ vol. 15, no. 2 was the first the UCL IOE Press published. For further information on possible areas and topics for submissions, consult this section's sub-section Call for Papers
Points to note:
The journal is published twice a year, in April and October, in partnership with The Historical Association and the History Educators International Research Network (HEIRNET)
There are no article processing charges.
It is professionally prepared to the highest academic standard, with international blind peer reviewing and rigorous editing.
HERJ is a web-based, open access journal, offers cutting-edge features and formats that may include multi-media elements, colour photos, audio and video clips and a range of downloadables
Each edition consists mainly of stand-alone articles, some or all of which might have a common focus or theme. Submissions draw upon the full range of methodologies relating to History Education research and scholarship.
While the journal accepts historical research on history education, it does not accept papers that are solely focused on the history of education in general or on history itself.
Editors and Editorial Board
Editor-in-chief: Dr Arthur Chapman, UCL Institute of Education
Editorial board
Dr Katharine Burn, University of Oxford, UK
Prof Carla van Boxtel, University of Amsterdam, The Netherlands
Dr Arthur Chapman, UCL Institute of Education, UK
Prof Hilary Cooper, University of Cumbria, UK
Prof Terry Haydn, University of East Anglia, UK
Alison Kitson, UCL Institute of Education, UK
Prof Andreas Körber, University of Hamburg, Germany
Dr Linda Levstik, University of Kentucky, USA
Prof Jon Nichol, History Education International Research Network, UK
Dr Andy Pearce, UCL Institute of Education, UK
Prof Arie Wilschut, Amsterdam University of Applied Sciences, The Netherlands